Share it on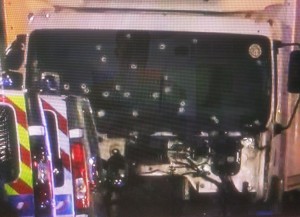 Well, my friends it has been too long since my last post. Not for lack of topics, but just otherwise occupied.
This post regards the recent terror attack in France, July 14th 2016. I chose the picture of the truck to illustrate the lack of bullet holes in the front windshield of the truck. Can you imagine standing in front of this truck with a hand gun and where you'd aim? I would imagine more bullet holes on the right as you look at the truck. BUT, I do distract from my salient point as indicated in the title. "Evil Tongue", this is what this is all about. Let me explain.
Recently somebody asked me, why is this happening?… Why, really the highest level why, why would god… you get the idea. Well, I really had to think and here is what I answered and what prompted me to post this new blog on this subject.
There is a rule in the various bibles, Torah, and even the Koran about taking the name of god in vain, or cursing it. This actually extents to each of us as we live our lives every day. The actual message is extended to every one of us as we speak about others and about how we protect those not present when they are being spoken about in an "Evil Tongue" manner.
So, I said, if you go back to the Munich Germany massacre at the olympics of the Israeli's and some of the varioius events of early very public terror, somehow the world really didn't get what was happening. This as I argue is the cause and effect of what we see today.
When you, me, nations, the UN, and other bodies don't stand up for basic rule of law, and protect what is obvious demonization of in that case Jews, you have a broader degradation of all forms of hate speech and education into "Evil Tongue" world.
How may times have you heard the "cycle of violence" claim or other placating terms used to speak about violence or terror against Israel and the Jews? Until we all start to condem the global behaviour and call it using the words that it requires this will only escalate. As we saw yesterday, not against Jews, but French, American's etc. Jews are becoming harder to target so they, the crazies acting in the name of their cool cause just kill whomever they can nearby.
Imagine if the world required the Islamic preachers in mosques around the world to speak about love and tollerance of other people, how this would be different. The funny thing is that due to the total lack of awareness to this critical fundamental rule of god's universal law, even the nations that are the worst offenders of this bad habbit are starting to come around to understanding that this must be stopped.
Now back to tactics for a second, in Israel, there is no gathering of large group of people that doesn't use large vehicles, buses parked across the street to physically block exactly just such an attack. The terms "DDD" or Detect, Delay and Deter is a security term that applies here. First, you extend your access, delay, to the critical mass of the people with lines of checks and barriers that when tripped will set off the next higher level of prevention. The last being empty busses or trucks parked across the street so no other truck, or truck bomb can get through. They, the French security knew this but chose not to even have tire spikes strips on hand to stop such an attack. France was also on their highest level of alert. Man, pitty the slow learners amoung us. We in the end are at the mercy of our collective alertness to any such attack. When you don't protect your neighbor, in the end you'll be targeted.
We need to start to have an honest dialog about fundamental rules of behaviour, laws, and to that end, understand that words have meaning. You can't say whatever you wish, and you can't allow others to either. This is not stopping free speech, but rather at least openly speaking about what is wrong when you hear or read it. Lies and decept are usually cloaked in very creative words, narative, so its up to the free press to start to be honest in what we speak about. The problem is that people are mostly afraid to seem to be anti Islam, anti Muslim, and so even the "good" ones are afraid too. There needs to be a very active campaign to change the vocabulary and message about what is acceptable behaviour and even thought. It is never OK to kill a Jew or Israeli. You start there, and I guarantee the world will see quiet very quickly. But first, the Internet, and all sources of "Evil Tongue" avenues must be used to overcome the rampant hate that is allowed to persist.
Again, respect for human life comes first, the rule of law, (not sharia) comes second, and finally teaching the love of music and each other will take us to the future we all wish to have.
If we don't call this what it is, it, terror, will continue to exist as some strange thing nobody gets.
Start tomorrow to use the words that define this and do not allow such anti-western, anti-christian, anti-jewish, anti-fill in the blank to continue. If you don't it will come to your door steps in a wave you never thought possible.
Share it on